About Us
Welcome to the website of the UK Association for Buddhist Studies, and its journal Buddhist Studies Review.
This association aims to act as a focus for Buddhist Studies in the UK, and is open to academics, post-graduates, and unaffiliated Buddhist scholars or interested Buddhist practitioners. Currently, the scholarly study of Buddhism in the UK is carried out by lone individuals or fairly small groups of people in any one location. Moreover, scholars may be located in a range of departments: Anthropology, Asian Studies, Comparative Religion, Law, Oriental Studies, Philosophy, Psychology, Religious Studies, Theology and Religious Studies, etc.
The association's constitution states: 'The object of the Association shall be the academic study of Buddhism through the national and international collaboration of all scholars whose research has a bearing on the subject.'
The association holds an annual conference and aims to help inform people of the ongoing work of others, and of any relevant conferences, visiting scholars, seminar series, etc., through this website and an electronic mailing list.
The association seeks to foster communication between those working in various fields: Buddhism in South, Southeast, Central, and East Asia; historical and contemporary aspects (including developments in 'Western' Buddhism); theoretical, practical, and methodological issues; textual, linguistic, archaeological and art-historical studies.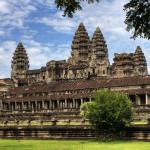 Links:
The history of the UK Association for Buddhist Studies
Peter Harvey – February 28, 2019
In 2011, I was asked to do a history of UKABS, as I am the only person who has been on its committee continuously from the start, and founded it with Ian Harris in 1995. Since 2011, I have said, 'I will do it soon', but Koko Kawanami nailed me down to a deadline by putting a talk by me on this on the programme of the 2017 conference. So, I trawled through my computer and box files and have produced this talk, along with various documents for the website. I have since updated the talk with further details. The idea for founding UKABS arose in, of all places, Hawai'i. Ian Harris, myself and Stewart McFarlaine travelled together to a June 1995 conference there organised by David Kalupahana (1933– January 2014). He had invited us to this conference, paid for by a Korean temple in Hawai'i, when he attended a conference in Leeds in April 1994 (organised by Ian Harris and Phillip Mellor). It was kind of him to invite me, as my paper at the Leeds conference criticised some of his ideas (not knowing he was in the audience)! Lance Cousins was also at the Hawai'i conference. He had previously been very active on the Buddha-L e-list, and I remember an American scholar, who had electronically interacted with him, but never met him, saying with glee, 'Ah, so you're Lance Cousins!'.At the conference, I mentioned to Ian that I was thinking of starting a group for scholars in the north-east of England with an interest in Buddhism. Ian saw such a plan as too modest in scale, and said: why not make it UK-wide? Lance encouraged us to develop this idea. As I'd picked up a post-card from a place called 'The Pali Lookout', he also encouraged me to send this to Richard Gombrich, who I'd had little or no contact with then. Over the summer of 1995, Ian and I developed our ideas. We originally thought of a 'British Association for the Study of Buddhism' as a section of the International Association of Buddhist Studies, but this idea then fell way. On June 13, Ian wrote letters, on behalf of us both, seeking funding from the Spalding Trust and the Numata Center, Berkeley. We were unsuccessful (though in 1998 we got some £300 from Spalding to improve the cover of our journal) It's text said….